Holidays
Recipes
The Queen's chefs just shared a recipe for making the perfect gingerbread house
Christmas lockdown baking
by ANNABELLE SPRANKLEN
23 DECEMBER 2020
This Christmas might be looking rather bleak for many of us unable to see friends and family but if you're looking for a lockdown festive activity, the Royal Family have come to the rescue.
The Queen's chefs took to social media to share their recipe for a show-stopping gingerbread house.
In the video, which has already been viewed by over 1.4m Instagram users, the chefs in the royal kitchens share the step-by-step guide on how to create your very own creation, with stained-glass windows, tree decorations and snow made from lemon-flavoured royal icing, of course.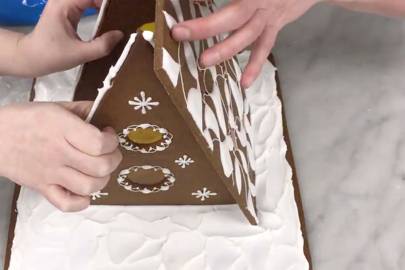 The post read, 'In the run up to Christmas, the chefs in the Royal kitchens have shared their recipe for making the perfect Gingerbread House. Follow our link in bio for the full recipe.
'If you decide to make the house yourself, we'd love to see what you've made. Please share your creations using #RoyalGingerbread'
By the looks of things, you'll need a rather steady hand (all that intricate piping) and someone else to help you assemble the house. Plus, rather a lot of time on your hands, this certainly isn't a quick bake.
That's the next few weeks sorted, then.
See the royal chef's gingerbread house recipe below.
How to make the dough
Ingredients:
1000g plain strong flour
14g bicarbonate of soda
28g ground ginger
14g ground cinnamon
355g unsalted butter
500g light brown sugar
140g egg
175g golden syrup
Method
Mix flour, bicarbonate and spices together
Add cold diced butter and continue mixing until crumb stage is reached
Add sugar and briefly combine
Then add eggs and syrup and mix until dough is formed
Divide into 2 blocks, knead together by hand and flatten
Wrap and chill for a few hours before rolling to approx. 5mm thickness for the house parts and approx. 3mm for smaller decorative parts
Cut gingerbread house shapes using template
Place on baking trays and chill again before baking
For windows, crush boiled sweets into the spaces you have cut
---
How to make the Royal icing
Ingredients:
1500g icing sugar
200g egg whites
50g lemon juice
Method
Sieve icing sugar and combine with egg white and lemon juice by hand first before placing into mixer
Paddle together on low speed for about 2min, then scrape sides and paddle well
Continue mixing on low speed for approx. another 5min, until a creamy hard peak consistency is reached.
For piping, loosen icing with some water
To assemble gingerbread house use hard peak icing
SOURCE: tatler.com
MAIN IMAGE SOURCE: TWITTER: @ROYALFAMILY